the team alchemy model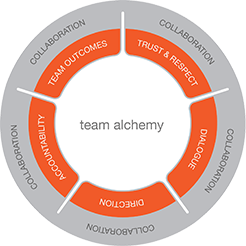 The Team Alchemy model identifies six key elements to effective teamwork. When working in harmony, these fundamentals create an environment where groups of people can compete and prosper.
team outcomes
Performance ethic. Team-first ethos. Recognise contributions.
accountability
High standards. Use of milestones to monitor, review and reflect on performance. Confront reality.
direction
Clarity and alignment. An action orientation. Commitment to execution.
dialogue
Active listening & straight-talking. Sound structure and processes. Use of constructive tension.
trust & respect
Give trust unearned. Respect each other. Belief through action.
collaboration
Strong external orientation. Proactively engage with key stakeholders. Utilise feedback loops.