trevor laurence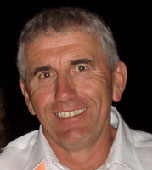 Trevor had over twenty five years experience in roles involving leadership, team performance and large scale cultural change. He was the founder and managing director of Team Alchemy Ltd (International) and was the managing director and the lead facilitator-coach with Experiential Training & Coaching (ETC) since founding that company in 1987.
During his career, Trevor led numerous collaborative interventions for organisations utilising a number of different leadership, team and cultural change models. His company has had long term business relationships with most of New Zealand's leading corporate organisations such as Spark (formerly Telecom New Zealand), Gen-i, Fletchers, Fonterra, House of Travel, Heinz-Wattie and Microsoft New Zealand. He was an accredited facilitator in many leadership and team profiling tools, and was passionate about linking learning with performance, and especially through teams.
The Team Alchemy system™ is the culmination of his work with large organisations and brings together international best practice on teams, with statistical analysis and empirical research.
After perfecting the Team Alchemy system™ between 2005 - 2010 while working with a selected group of clients, Trevor's focus then became expanding the application of Team Alchemy into the global marketplace, with special emphasis on Asia-Pacific, Europe and North America.
Trevor was a NZ hockey player, played at the Olympics and World Cup, captained the team and was also a member of the management team for the 'Black Sticks' at a World Cup. He was a president and life member of the Auckland Hockey Association in New Zealand.
* Sadly, Trevor passed away in April of 2015 while mountain biking near his home in Paekakariki, New Zealand. He leaves an irreplaceable gap in the lives of those who knew him, in professional as well as personal circles. Team Alchemy is one of his surviving legacies. Team Alchemy will continue to improve leadership, team performance and large scale cultural change around the world in Trevor's memory.
why team alchemy?
"I believe that the Team Alchemy system™ is a major breakthrough in the application of teamwork in organisations, perhaps the first such breakthrough in over 20 years. Team Alchemy provides a missing link to achieving organisational performance by focusing on building networks of teams that collaborate together to lift business performance. Utilising our database of over 900 international multi-functional work teams, we have established links between team performance and business results such as customer service, profitability and employee engagement. I have seen how Team Alchemy helps build fulfilling workplace environments for employees, provides connectivity across organisations, and links learning with performance."
- Trevor Laurence.