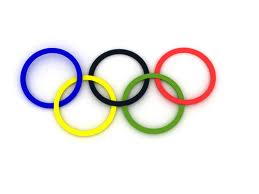 In just two days time, the crème-de-la-crème of the sporting world will ascend on London to bring to fruition four years of hard work and preparation, as they compete for glory at the 30th edition of the Olympic Games. Undoubtedly, the highlight of this year's sporting calendar, the Olympics, will provide no shortage of drama and intrigue as the world's premier athletes do battle for two weeks.
However, over the past three weeks another of the world's foremost sporting events (and one of my personal favourites) has been taking place, the 2012 Tour de France. As an aperitif to the Olympics, I have loved the Tour de France as once again it has provided a case study of an utterly dominant, efficient and victorious example of high performance teamwork in the sporting field.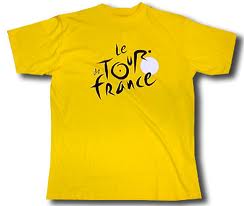 As a former Olympian I love the four-yearly event dearly, and I am well aware that even in the many individual Olympic sports, individual athletes have strong support /management teams behind them. However, I think themain reason I am so enthralled by the Tour de France is that it is a magnificent example of business and sporting excellence achieved through high performance teamwork and collaboration, both on and off the road.
Today's blog is number four in a five part series examining the five phases of the Team Alchemy Life Cycle. This post throws the spotlight on where all of us involved in teams should be aiming for: the high performance phase known as Team Alchemy.
Team Sky, led by Briton Bradley Wiggins, over the last three weeks turned in what was a supremely well planned, coordinated and executed team performance to take the 99th edition of the famous Tour de France. Wiggins wore the coveted yellow jersey for the majority of the three-week event, and his teammate Chris Froome finished one rung down from him in second place on the winner's podium at the Champs Elysees on Sunday. A third Team Sky rider Mark Cavendish, won the final stage to claim his 23rd Tour stage win (one more than seven time champion Lance Armstrong) and his third this year. He also became the first reigning world champion to win on the Champs-Elysees.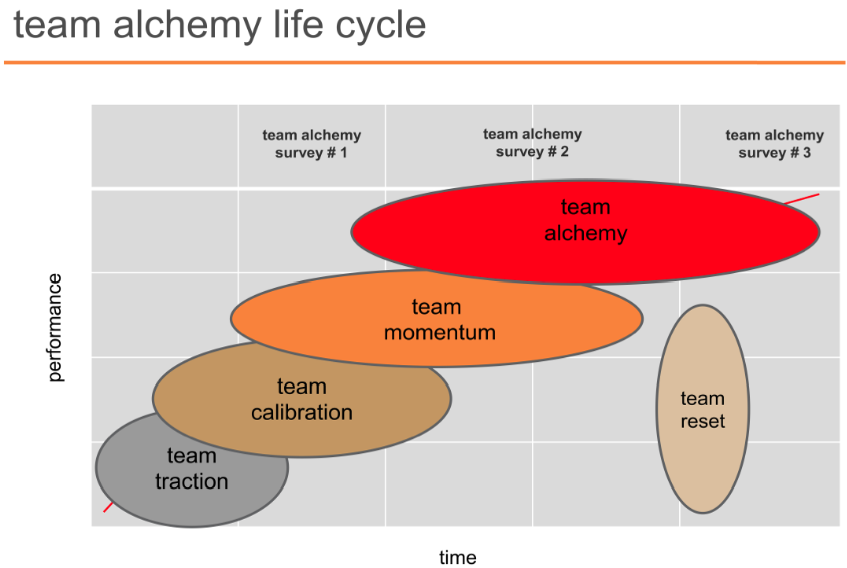 I missed a lot of sleep over the past three weeks, observing and reading about Team Sky, and marveling as I watched what was undoubtedly a team operating in a state of Team Alchemy. There are many parallels between what they were doing and what great business teams do whilst operating at a state of high performance.
It was apparent from the early days of the Tour this year that Team Sky had a clear direction, well communicated to all team members. Yves Blanc, editor of Le Cycle magazine, said about them: "Anglo-Saxon teams like Sky are more organised. They are more pro, every member has a clear job to do, serving the leader, and there's no room for poetry.
As the race wound on, and Team Sky dominated day after day, similar compliments continued to roll in from the cycling world…
One article in The Guardian described Wiggins and Team Sky in the following way: "A grand tour is a compelling amalgam of teamwork and individual effort, and in only their third year at the Tour, Sky's directors, coaches and riders have shown a complete mastery of sport's most complex alchemy." This was indicative of a trait, which we in the business world must also strive to instill in our teams as we aim for Team Alchemy – an execution culture. Team Sky obviously had it in bundles.
Attached to their execution culture, Wiggin's cyclists also displayed an unflagging commitment to the team, placing the success of the group ahead of individual feats. The Tour de France is famous as a sporting example of individual athletes working tactically to promote the success of their lead rider. In few other sports can such dedication to the team be seen. Team Sky seems to have taken this success culture to an even higher level. Again, this did not pass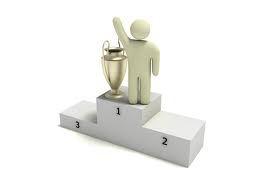 unnoticed by the cycling community, with BBC News commenting in an article: "Several of his team-mates could be leaders themselves. When you have a world champion - Mark Cavendish - going back and forth with water-bottles, that shows an amazing depth on the bench."
Dialogue from within the team itself consistently alluded to a strong sense of mutual accountability and disciplined collaboration. Many commentators actually believed that Wiggins' second-in-command, Chris Froome, was a stronger rider than Wiggins, and could have been a genuine yellow jersey contender in his own right. The fact that Froome was content to play support role to Wiggins is testament to the value he and his team put on the success of the group, rather than their own individual glories. This from Froome, when asked how long he was prepared to ride as Wiggin's deputy: "For as long as he wants to. For as long as the team wants to. That's the way teams work."
And what of the man himself? On Sunday Bradley Wiggins became the first Briton to win he Tour de France in the rich 109-year history of the event. However, what impressed me most about him, was that rather than get caught up in the hype, the man in the yellow jersey talked always about 'the team', and never about himself.
"This is a star team. We've got the world champion and each rider in their own right is capable of something in the Tour de France. I am part of this team and always want to be part of it to the end of my career. It is about the team being successful. I was the one given the role to lead the team at this year's Tour and I took the responsibility. What is important is the team succeeds, otherwise there is no point in me being in the team if it's all about me. It's never just been about me."
- - -
In the business world, just as in the French Alps, teams cannot always be on top of their game, operating 'in the zone' of Team Alchemy. However, it should be what we are always striving towards, putting together the components within our teams to work towards being at a state of high performance. The Team Alchemy Life Cycle charts progress towards this objective. Bradley Wiggins and Team Sky are a shining example of a team who have reached the pinnacle of the Life Cycle, as well as their sporting world.
How are you and your team riding in your own Tour de Alchemy?
- - -
© 2013 Team Alchemy. Click here to read about the Team Alchemy writers.