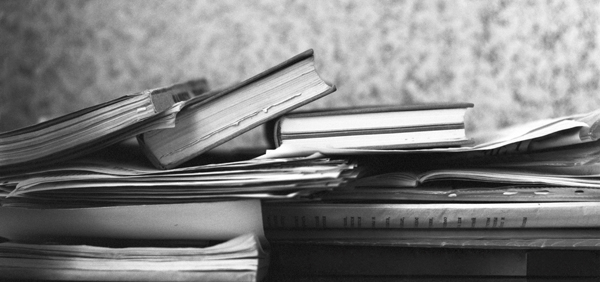 This edition of my blog is as close as Team Alchemy will ever get to Oprah's Book Club.
Today we take a look back at one of the most important articles ever to be published about high performance teamwork. Despite its age, it is as relevant now as the day it was published.
In what is now considered a ground-breaking article, "The Discipline of Teams', first published in Harvard Business Review in 1993, Jon Katzenbach & Douglas Smith provide a clear definition for what exactly is, and isn't a team.
To purchase the full article in PDF form, click here.
In their article, which was based on their book "The Wisdom of Teams", Katzenbach & Smith discuss the key components of a 'real' work team. Importantly, they also distinguish between work teams and work groups.
A lasting legacy
"A team is a small number of people with complementary skills who are committed to a common purpose, set of performance goals, and approach for which they hold themselves mutually accountable." – Katzenbach & Smith.
Over the years, Katzenbach & Smith's definition of a team became the industry standard. It has been accepted the world over by high performance teamwork practitioners.
I was an early adopter of Katzenbach & Smith's definition of a team back in the mid-1990s. Now, nearly 21 years later, I have seen their working definition provide clarity, insight and practical guidelines for many hundreds of work teams that we have assessed and coached via our Team Alchemy System.
When is a team not a team?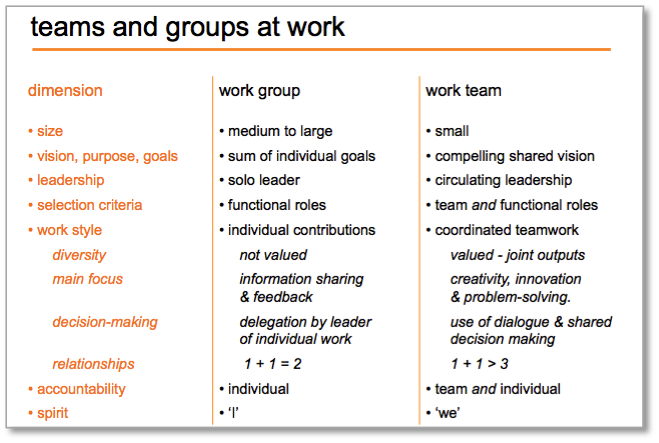 As was the case in 1993, and is still true today, the term "team" is applied in such a widespread and generic sense that the concept and discipline involved has become devalued in many organisations.
Often, individuals are lumped together into committees, task forces and councils. While they are typically labelled 'teams', for several crucial reasons most often in reality they are not. The confusion regarding expectations from both team members and external stakeholders of how the team will operate together to deliver outputs, dooms the team to failure. For example, the table to the left, based on Katzenbach and Smith's distinctions, gives a snapshot of what work teams look like as opposed to work groups.
Diagnosing when to 'team' and when to 'group'
Katzenbach & Smith contend that while all teams are groups, not all groups are teams. They also contend that effective teams will provide performance outcomes greater than that possible from effective groups. However it is also true that certain types of work are more appropriate for groups than for teams.
So logically then, it follows that we need to be able to recognise which situations require group work and which require team work. We also need to know when and how to apply each work discipline, as each is vital to achieving appropriate (collective) work inputs and outputs. Teams require higher inputs to achieve the value-added outputs, so there are trade-offs to be considered.
Once we are able to diagnose the work discipline required we can then coordinate and adjust individual contribution and the contribution of our collaborators with clarity and alignment of expectations. So being able to recognise situations that call for groups and situations that need teams is extremely important for designing fulfilling, effective, and rewarding work in organisations.
When to use a team, and when to use a group?
Teams are best comprised of 3 – 7 members, and are of optimum value where complexity or a challenging issue requires diverse input and co-creation, e.g. R&D, creativity, strategic thinking, tackling new ground, talent management, etc. Teams typically require synchronistic input to the work.
Groups may be made up of anywhere between 10 – 150 people, and are best for information sharing and feedback, e.g. progress reporting or announcements. Groups also tend to be effective for aggregating individual input, often via collaboration technology, in an asynchronistic manner.
How to promote teamwork
Katzenbach & Smith contend that "people use the word "team" so loosely that it gets in the way of learning and applying the discipline that leads to good performance."
So how do we go about instilling the requisite qualities and processes to guide a group to the high performance realm of real teams?
Katzenbach & Smith offer guidelines within their 1993 article. Many of these guidelines have become foundation principles of the Team Alchemy system. I will offer an abbreviated summary of them here. (Again, for those of you interested in reading Katzenbach & Smith's article in full, I recommend you purchase it in PDF using this link.)
Establish urgency, demanding performance standards, and direction.
Select members for skill and skill potential, not personality.
Pay particular attention to first meetings and actions. Initial impressions always mean
a great deal.
Set some clear rules of behaviour.
Set and seize upon a few immediate performance oriented tasks and goals.
Challenge the team regularly with fresh facts and information.
Spend lots of time together.
Book Club summary
It is human nature to organise itself into groups. We experience them in all facets of our lives, in family life, in recreation, and at work. Teams are much more complex, and don't happen as naturally as groups. They display definite characteristics which distinguish them from groups. And they produce high performance results.
Katzenbach & Smith were pioneers in identifying the differences between groups and teams in 1993. Their Harvard Business Review article, and book "The Wisdom of Teams" together gave the world of high performance teamwork a real shakeup.
It was a real game changer, and continues even now to be used as a roadmap for team performance practitioners all around the world.
5 stars from the Team Alchemy book club review! ★ ★ ★ ★ ★