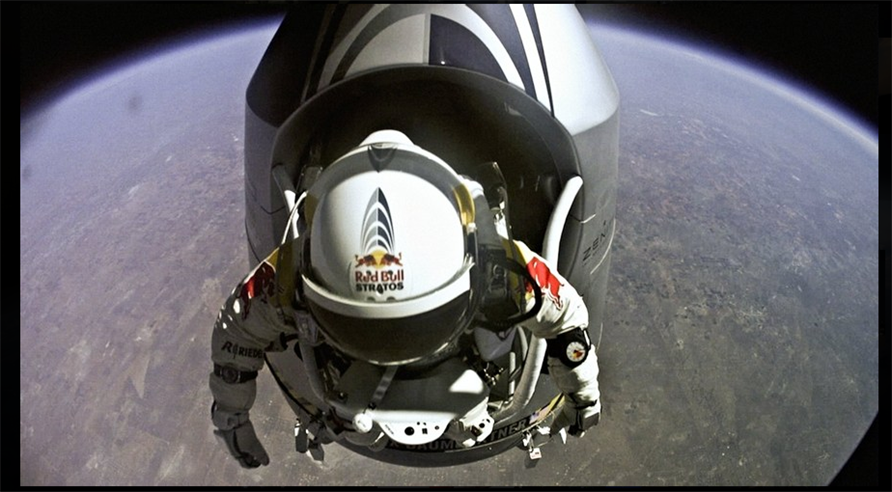 Q: When doesn't Red Bull "give you wings"?
A: When it drops you from a hot air balloon 38kms above earth, making you the first ever human being to travel faster than the speed of sound in freefall, and setting four world records in the process.
On October 14th 2012 this is exactly what Red Bull and Austrian base jumper/daredevil Felix Baumgartner achieved.
Some incredible new footage of the event has just been released this week, courtesy of the seven GoPro cameras which were strapped to his space suit. It is an amazing video to watch, and one which inspired me to do a little more research about what exactly was involved in creating one of history's great space achievements.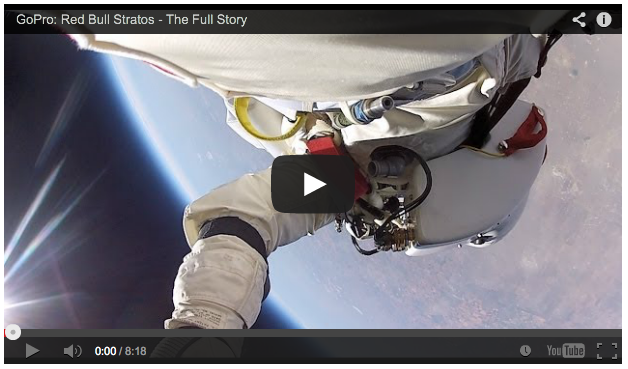 The video itself plays out like a mini-Hollywood feature; full of drama and danger, and when you see Baumgartner go into a violent 'flat spin' it's easy to see how it all could well have ended in disaster, had it not been for the supreme planning and collaboration by Baumgartner and his Red Bull team over a 7 year period.
The Goal
The Red Bull Stratos team's mission objective was "to transcend human limits". They most certainly did that!
To propel a man faster than the speed of sound without an aircraft for the first time would be a groundbreaking goal for NASA.
To design and build firstly the spacecraft and secondly the spacesuit necessary to withstand the forces of freefall from space at speeds of over 1100kms would extend the specialist skills of any space programme on the planet.
The fact that it was done by a private company makes the story all the more compelling. How did an energy drink manufacturer manage to do something which had never been done before in the history of human space exploration?
The answer to a large degree, lies in collaboration.
The Synergy
Red Bull is perhaps the most innovative marketing company we have ever seen. Baumgartner's 9 minute and 9 second fall back to earth is doubtless the proudest moment in their history.
Since their inception in 1982, Red Bull have not just backed superstars, they have created them. Not content with simply creating trends they have created whole adventure sports and industries, then capitalised on them by redefining how they are watched. Pioneers of online video as a means of promotion, Red Bull lead the way in showing the world how to push the limits.
The 'Stratos' project demanded that Red Bull extend the boundaries of what even they themselves believed was possible, by bringing together the best in field leaders from all around the world and amalgamating their diverse talents.
Essentially, they needed help. They had to collaborate.
The Team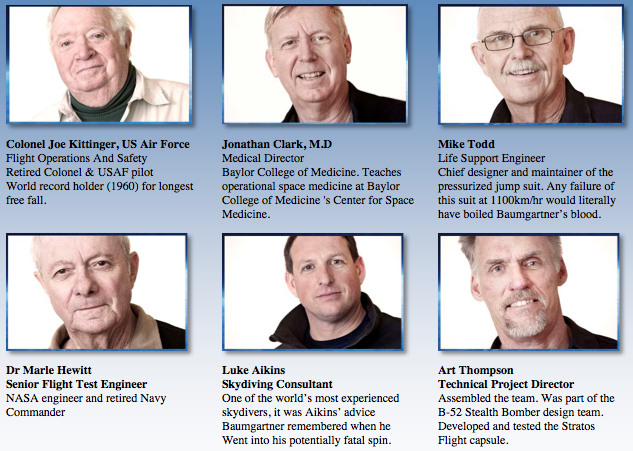 When Baumgartner jumped from 38kms above the earth's surface, he was watched by 8 million people on a live Youtube stream – a world record (and more people than were watching the Presidential inauguration that was happening at the same time!)
What those 8 million sets of eyes didn't see however, was the teamwork and meticulous planning that took place in the preceding 7 years to get Baumgartner to the edge of history.
Red Bull Stratos was an amalgamation of scientists, engineers, designers, space industry consultants, military specialists, parachutists, nutritionists, biomechanists, and sports psychologists.
The average age of the Stratos team was 65. Melding together so many years of experience, as well as so many diverse backgrounds and strong personalities was undoubtedly one of the team's biggest challenges. Ultimately the collaborative synergy the team achieved should also be considered as one of their biggest achievements.
The Big Picture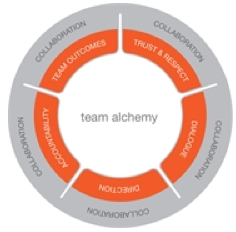 The Team Alchemy model has "Collaboration" as its outer ring for a reason; to collaborate effectively ties together the 'big picture' of any team who realises that ultimately its success will be judged by their external stakeholders.
In the case of Red Bull and Team Stratos whose stated mission objective was "to transcend human limits" they surely realised that their key external stakeholders were a global audience (and potential client base!) watching through the world's digital media streams.
In propelling Felix Baumgartner faster than the speed of sound, Red Bull quite literally managed to transcend human limits. I'm quite sure however, that their marketing department would have been quietly chuffed with the associated world record of 8 million simultaneous Youtube viewers; confirmation that their project was judged a success by their external stakeholders.
Baumgartner himself has said that in his world of extreme sports "preparation is always more important than the event itself" and is the ultimate determinant between eventual success or failure (or in his case life or death).
This is as good a quote as any that I have read about the benefits of effective teamwork.
"Collaboration gives you wings!"
- - -
© 2013 Team Alchemy. Click here to read about the Team Alchemy writers.