During my last blog post I wrote about "collaboration by difference" - the importance of being able to tap into the knowledge and skill sets of the quiet or 'black sheep' members of a team. This week I planned to continue part two of that theme – specific ways to hear and value the thoughts and opinions that often go unnoticed in teams.
That was my plan until I saw this video. I couldn't let the opportunity pass to share it with you all.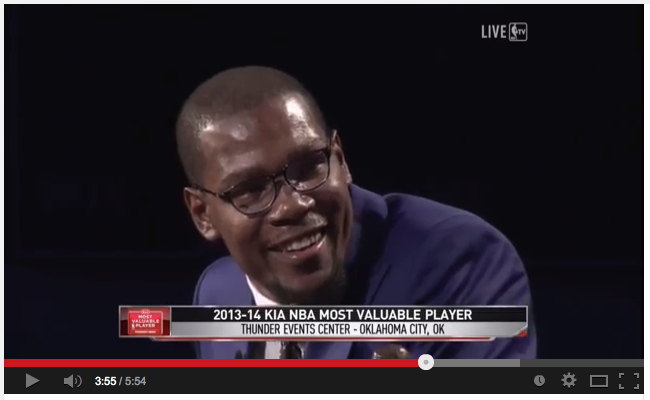 NBA basketball is one of the world's greatest microcosms for fostering and celebrating the 'superstar'. Teams are designed around one or two dominant players. The money, glamour and idolisation of the NBA superstar is unparalleled in any other sport on the planet.
Kevin Durant is a mould breaker. He is an exception to his environment and this video demonstrates that. The video is of Durant's acceptance speech last week of the NBA's 2014 MVP award.
It was so refreshing to see genuine appreciation by Durant of the importance of teamwork and how it helped him becoming the best basketball player in the world.
MVP acceptance speeches are so often just another time and a bigger stage for the superstar to bask in his own glory – paying lip service to his teammates while basking in the individual limelight.
Durant made sure he has his whole team on stage with him and then proceeded to make a dedicated mention of every single one of them. His comments were personalised, heartfelt and meaningful – referencing how much his teammates mean to him on and off the court.
Durant is in (genuine) tears for much of the speech, often while he describes his thankfulness for the personal qualities of his teammates. In a situation where most choose to make speeches about their own personal qualities that made them great, Durant recognised his team mates as friends and family. In doing so he goes beyond talking about sport.
During his time on stage Durant touched on so many issues demonstrating his genuine appreciation of the power of the team.
He recognises the contribution of others (talking about junior player Andre Roberson – "When I pull you aside while we're working out, just as much as you think I'm making you better, you elevate my game").
He shows an understanding of the twin modes of respect – professional and personal (talking to team mate Reggie Jackson – "Words can't explain how much I care about you and your wellbeing… off the court").
He intrinsically knows the power of creating a culture of accountability and high standards (addressing Russell Westbrook, team mate & fellow NBA Allstar – "I love you. I have your back through it all. Stay the person you are. Your work ethic made me better. I always pull up into the practice arena and if you beat me there I'm always upset.")
In talking to Steven Adams (NZer and 20 year old rookie) he demonstrates his openness and honesty as a leader – ("You inspire me… I know your story… you're a hell of a person").
Most importantly Kevin Durant knows he is part of something bigger than himself and shows external orientation – a very rare quality in the world of the NBA superstar. He concludes his speech to his team mates with the lines "I know we have a bigger goal in mind (an NBA championship)… But it means the world to me that you guys are here to celebrate this with me."
Since he began in 2007 I have been interested in Kevin Durant as I read stories about how he (authentically) performs charity work in his local community, away from the cameras and paparazzi.
For this he has always been someone I have supported even though I only have a passing interest in basketball.
Since watching his MVP acceptance speech he has become someone it is impossible not to admire. I daresay that when you watch the video you will feel the same.
- - -
© 2013 Team Alchemy. Click here to read about the Team Alchemy writers.