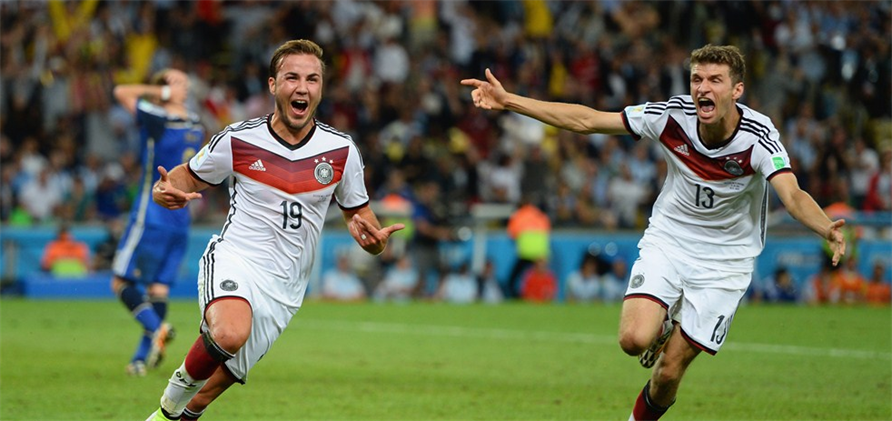 One of the most renowned quotes in the football world also sums up yesterday's World Cup final result:
"Football is a simple game; 22 men chase a ball for 90 minutes and at the end, the Germans always win" – Gary Linekar, former England footballer.
Linekar is one of the great players of football history and although obviously made in jest his quote also hints at a deeper question about the German footballing psyche…
How is Germany able to so consistently produce a high performing national team?
Yesterday's World Cup crown was their fourth. Only Brazil, the spiritual guardians of the sport, have more (five). Germany have the longest streak of any nation for reaching consecutive World Cup quarterfinals, having made the top 8 at the last 16 editions of the tournament. Even Brazil can't top that, their longest streak being 6 consecutive World Cup quarterfinal appearances.
Add to that their recent record: finalist, and semi-finalists respectively in the 2008 and 2012 European Championships and semi-finalist in the 2010 World Cup and you can see why they are respected as the most consistent juggernaut on the football stage.
So what can we learn from the Nationalmannschaft that is transferrable to the business world? Below I summarise four lessons I learned from Germany's latest World Cup victory, and how they relate to the business world…
1. Grow Your Own Talent
At the 2000 European Cup Germany finished last in their pool without winning a game. Embarrassed, and with equally poor results coming from their junior national teams, the future looked bleak for German football.
The response was a full overhaul of their national competition. The German Football Association decreed that their Bundesliga (national premier league) become a focus for homegrown talent. Emphasis shifted away from buying foreign players to identifying and developing young German talent.
Two key actions were decided upon. The first was labeled the '50% + 1 rule' which dictated that all German clubs must be at least 51% owned by its members. This radical move ensured local ownership of the teams, removing foreign investors from their national league. The German Football Association's second critical play was to require that all clubs take part in a strictly administered nationwide academy programme. In this way, developing Germany's next generations of talent became the priority.
The results of those actions a decade ago speak for themselves; best illustrated by Germany providing both teams – Bayern Munich and Borussia Dortmund – for this year's Champions League final (Europe's top club competition). Of the 30 players across both squads 26 were homegrown German talent!
The focus on producing their own talent has certainly paid dividends for Germany in the international arena, as evidenced by yesterdays World Cup victory. But how does it relate to the business world?
By taking a long-term approach to developing talent, companies reap the rewards of investing in people who grow with their organization. As employees are nurtured they themselves become representatives of the workplace culture. Those identified early as having potential – provided they are developed carefully – will more often than not repay the faith by becoming respected leaders who symbolize the organization's core values.
2. Have A Success Culture
A week ago the football world was in shock after host nation Brazil's capitulation at the hands of Germany in the semi-final. The 7–1 loss was one of the most memorable matches in the sport's history, but what was the reaction from Germany's coaching staff? They were cautious.
In interviews the next day they spoke of their worry that the victory would detract from the greater objective of their team. Their attitude was that while winning the semi-final was great, even the impressive manner in which they had done so should not distract them from their end goal – winning the World Cup.
The way in which the German management team allowed their players to celebrate success during their World Cup campaign and yet not lose sight of their BHAG is a perfect example of a success culture at play.
Celebrating success is an integral part of a business team's life cycle and development. It allows team members to come together to recognise key milestones achieved and at the same time provides opportune markers to reflect on the wider objectives still ahead.
3. Shared Leadership
"Today there aren't any players that single-handedly lead their teams. Today you share this responsibility. Every single player has to take responsibility for what they do." – Philip Lahm, German captain 2014.
Lahm himself is considered one of the most complete footballers on the planet at the moment. His players often speak of their admiration for his leadership and yet the quote above shows that he himself believes the leadership of a high performing team to be a collective task.
In my work with effective business leaders I regularly see similar leadership approaches. Some of the best business leaders acknowledge the need to distribute leadership responsibilities amongst team members – allocating tasks and duties in alignment with the personal strengths of individuals in the team. Outstanding business leaders show faith in those around them to display similarly outstanding leadership qualities.
4. Experienced Management
Joachim Low has been the German national team coach for eight years. Although yesterday's victory was the first major title he has delivered in that time, it's interesting to examine the investment of faith Germany placed in him.
While being very good results, top four finishes in the last two European Cups and at the 2010 World Cup may not have been enough to keep him in his post had Low been coaching for other nations. Football coaches are often let go for much worse. That Germany saw fit to re-invest in the potential of a leader with high quality results and eventually reaped even greater rewards for their faith is a business lesson for the shrewd observer.
How often do we see managers and team leaders replaced before their potential is fully realized? Often truly outstanding business results come after a period of what may appear to be a plateau. In actuality this 'plateau' can be the springboard needed for a manager to lift the team to the state of peak performance. In the Team Alchemy System we say this is when a team moves from Momentum to Alchemy in the life cycle. Just as Joachim Low found another gear with his German football side, so too can business leaders who have had time and faith invested in them in the correct ways.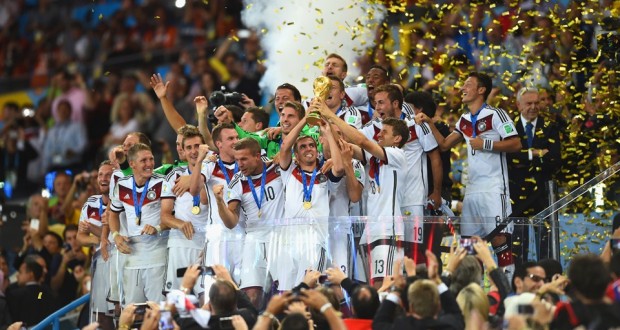 To me Germany is the epitome of Team Alchemy in the World Cup environment - consistently producing high performance teamwork no matter the personnel or environment; again and again, decade after decade.
The Team Alchemy System has the same aims for business teams and organisations.
German football has redefined the standards of high performance for their generation. That they attain them so consistently is a tribute to their structures and processes over time. What lessons can we learn from them, and how many of those lessons are you applying in your organisations today to reach similarly high levels of achievement?
What were your thoughts on the World Cup over the past month? I myself have numerous other reflections on the tournament, many of which can be applied to business and high performance teamwork. I'd love to hear yours below – perhaps we've been thinking the same things?
Trevor